Five reasons why Waitrose is closing stores
The grocer is seeing more shoppers through its doors and increasing its market share, so why is it reining in expansion?
S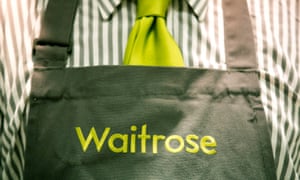 hoppers are moving away from a big weekly shop towards picking up what they need locally. Photograph: Neil Hall/Reuters
Thursday 9 February 2017 12.54 ESTFirst published on Thursday 9 February 2017 09.57 EST
Waitrose total sales continue to rise in a tough grocery environmentwith the supermarket chain increasing its market share to 5.3% in the past year, as an average 250,000 more shoppers a week walked through its doors.
But the upmarket grocer is closing stores and reining in expansion after operating profits fell by 10.5% to £121.3m in the six months to the end of July, even before a £25m write down of property assets where it no longer wants to build stores.
Its "big four" supermarket rivals – Tesco, Sainsbury's, Asda and Morrisons – have already pushed through restructuring plans in the face of an increasingly competitive landscape and the growth of online shopping.
So why is Waitrose shutting branches?
Overexpansion
Staines, Leek, Cardiff – these are not typical Waitrose heartlands and have not attracted the number of shoppers needed to become profitable. Rising costs and fears that shoppers will rein in their spending once Brexit-fuelled inflation kicks in only make such adventures less attractive.
Shoppers are also moving away from a big weekly shop towards picking up what they need locally so sales in big supermarkets are generally in decline. Waitrose is still opening stores this year, but they will mostly be its Little Waitrose convenience outlets – a section of the market that is still growing.
Most of the closures are supermarkets. When Dave Lewis took charge of Tesco in 2014, one of his first big decisions was to close 43 unprofitable stores and abandon plans to build another 49 around the country.
Prices
The rise in popularity of discounters Aldi and Lidl has forced the entire grocery market to rethink prices and Waitrose has not been immune. Even its mainly middle-class shoppers are happy to pick up a bargain in one of the German discounters – whether it's champagne or toilet roll – and that has eaten away at Waitrose's market.
In an attempt to maintain its competitive edge, Waitrose pledges to price-match Tesco, the UK's biggest supermarket chain, on thousands of branded lines. As Tesco has brought down prices, Waitrose has been forced to follow, contributing to a 1% fall in sales at established stores in the half-year to July.
Other initiatives including the introduction of a basics range during the financial crisis in 2009 and a 20% discount for loyalty card holders on 10 items they regularly buy will also have squeezed profit margins. Analysts wonder how long it will be able to keep offering them a free coffee when they pop in to do their shopping.
Online
Waitrose's more wealthy London-based shoppers have been keen adopters of online retail. Internet grocery sales rose 4.3% in the six months to July as sales in established stores fell. Picking and packing your customers' groceries is an expensive business. While Waitrose shoppers spend more than those at other chains and is profitable, it makes considerably less money online than it does in stores. The struggle to make the economics of the online grocery business stack up is illustrated by Ocado, which took 15 years to turn a profit.
Rising costs
Last month Charlie Mayfield, the chairman of Waitrose's parent group, the John Lewis Partnership, warned that retailers would have to absorb a big chunk of the rise in the cost of importing goods since the fall in the value of sterling after the UK voted to leave the EU.
That only adds to increased costs from the introduction of the new minimum wage for over-25s, the national living wage, as well as the new apprenticeship levy, which comes into force in April. This year's increase in business rates will have affected Waitrose more than many of its rivals as it particularly affected businesses in the south where the chain is mostly based. The company says its new management structure in stores will improve service by ensuring the right number of staff are working during busy times.
Increased competition
Its not just the rise of Aldi and Lidl that has affected Waitrose. One of its biggest rivals, Marks & Spencer, has also been expanding fast in recent years, opening hundreds of its Simply Food convenience stores.
Those who want to treat themselves or are concerned about ethical eating also have a range of other options from organic vegetable boxes to the mainstream supermarkets' premium ranges.