Whole Foods scales back and Aldi rolls out $1B in improvements
Feb 10, 2017, 2:55pm EST Updated Feb 10, 2017, 3:05pm EST
Ashley Gurbal KritzerSenior ReporterTampa Bay Business Journal
Grocers across the gamut are trying to strike the right balance of upscale touches and competitive pricing — as recent moves by Aldi Inc. and Whole Foods Market Inc. demonstrate.
Austin-based Whole Foods (NASDAQ: WFM) said on Wednesday it would close nine stores and shift its focus to 365 by Whole Foods, a millennial-driven discount concept that's smaller than its traditional stores. Florida, with 26 Whole Foods stores including two in Tampa, was spared from the closures.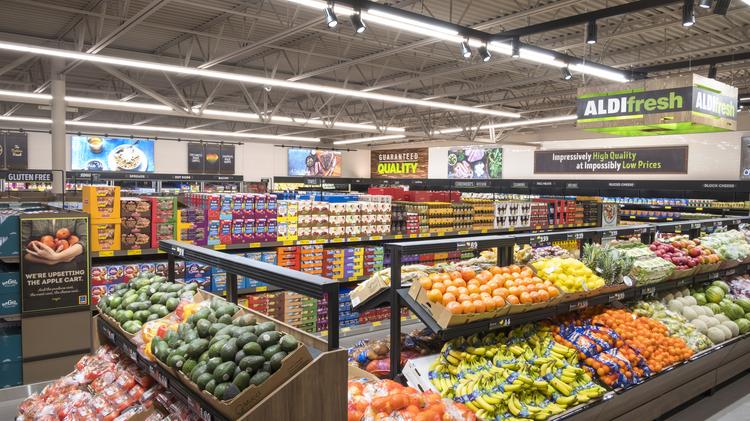 The produce department Aldi. The German discount grocer is expanding produce departments… more
German discount grocer Aldi Inc. said this week that it is investing $1.6 billion in its U.S. growth, with plans to remodel and expand 1,300 stores by 2020. Some of that is already underway; in January, the company pulled a building permit for a $117,000 remodel of its store at 620 E. Brandon Blvd. in Brandon.
Whole Foods CEO John Mackey said on a call with investors that Whole Foods has seen sales decline as traditional supermarkets have expanded their organic and natural selections.
"I do think the world is very different today than it was five years ago," Mackey said on the call.
That's due in large part to strategies employed by Lakeland-based Publix Super Markets Inc. and one of its biggest competitors, Kroger Co. (NYSE: KR).
Publix and Kroger are mainstream grocers that are trying to appeal to a wider customer base than ever before, as new grocery concepts, meal kits and increasing food delivery options eat up share from traditional grocers.
That means they now cater to craft beer enthusiasts and have larger wine and specialty cheese departments. They have more flattering lighting and sophisticated signage — all while trying to remain price conscious.
Aldi, a place where customers have to bag their own groceries and put down a 25-cent deposit on a shopping cart, is moving in the same direction. Its $1 billion-plus improvements will make way for more fresh items and in some cases, a more modern design with "open ceilings, natural lighting and environmentally friendly building materials – such as recycled materials, energy-saving refrigeration and LED lighting," according to the company.
Whole Foods is attempting to strike the same balance with its 365 by Whole Foods stores. That concept features upscale touches like a coffee bar with a customizable tea machine and a fresh cut fruit bar, but also emphasizes the grocer's private label goods, a discount compared to most name-brand items.
Kroger has made substantial investments in reaching more upscale customers. It is backing Lucky's Market, an organic grocer that's planning up to 10 locations in Tampa Bay. Kroger is likely to gain insight on how to better reach that category of shoppers from its deal with Lucky's.
It also recently acquired Murray's Cheese, a New York-based specialty cheese company.
But it isn't enough for a grocer to just offer a beautiful store and specialty items, as the problems plaguing Whole Foods show. Pricing is also an issue — even for Publix, which isn't known as a discount grocer.
Slashing prices doesn't fit the Publix image of a store "where shopping is a pleasure," but the grocer does like to tout its buy one, get one free deals and competitive pricing, especially as it relates to Walmart Stores Inc., which is just behind Publix in market share in Central Florida.
It's a strategy that will continue to evolve in the coming years, especially as Sprouts Farmers Market Inc. (NASDAQ: SFM) starts to open its first wave of Florida stores. Sprouts, which is known for low prices on organic produce, will open its first Florida store in Tampa later this month.