Whole Foods Market: Lidl Will Be A Big Problem
Summary
Lidl is planning to open 100 stores in the U.S. by mid-2018.
Lidl plans to eventually open 600 stores in the U.S.
Lidl's low prices and aggressive growth plans are likely to put pressure on Whole Foods Market.
Whole Foods Market (NASDAQ:WFM) has been struggling with 6 consecutive quarters of comp store sales declines. The company lost its competitive advantage as the sales leader for organic/healthy food. Grocery chains such as Wal-Mart (NYSE:WMT), Sprouts Farmer's Market (NASDAQ:SFM), Giant Food Stores (OTCQX:ADRNY), Kroger (NYSE:KR), Aldi, Wegman's, Trader Joes, etc. have been increasingly adding organic food to their shelves. The competition is picking up with Amazon (NASDAQ:AMZN) selling organic food through Amazon Fresh.
As if all of that competition wasn't enough, German discount grocery store chain, Lidl, announced that they will open 100 stores in the U.S. by mid-2018. Lidl plans to eventually open 600 stores in the U.S. That will be more than Whole Foods Market's store count of 446 U.S. stores. With so much competition already in place with more on the way, I think it is likely Whole Foods will continue to experience comp store sales declines and decreased margins.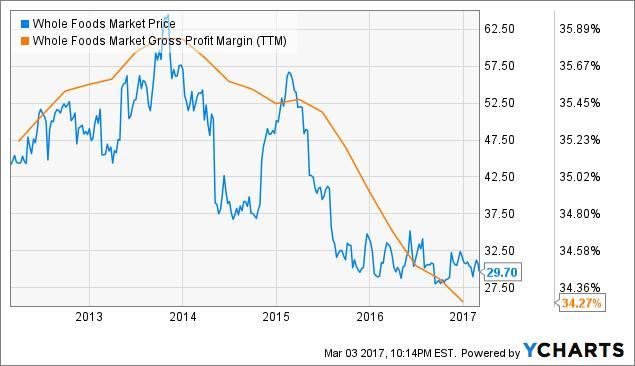 Whole Foods Market's declining comp store sales and declining gross margin are a result of the increased competition for organic food. Consumers can get organic food at their local grocery stores or even online from Amazon. The greater availability of organic food led to less consumers shopping at Whole Foods. The competition also put pressure on Whole Foods Market's prices. As Whole Foods lowered prices to keep up with the competition, its gross margin declined, putting negative pressure on profit.
Why Lidl Will Put Pressure on Whole Foods Market
The previous perception of Whole Foods Market was that the company was a dividend growth story. That was true before organic food became so mainstream. Whole Foods used to be the main provider of organic food, giving the company a competitive advantage. Now organic food is sold in most grocery stores. Therefore, many consumers can get the organic food that they're looking for at their nearest grocery store.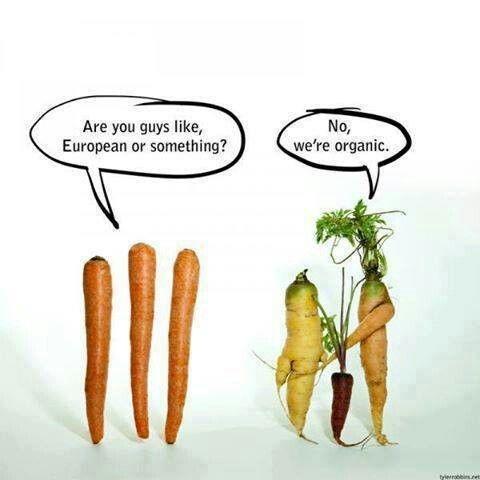 Image source: f5quotes.com
The reality is that Whole Foods lost its competitive advantage. The company is experiencing a trend of negative comp store sales for 6 quarters in a row.
With Lidl entering the U.S. market, Whole Foods and the organic market will face even more pressure to offer lower prices to remain competitive. That will cause Whole Foods Market's gross margin to continue its decline. More organic food choices for consumers means it will be difficult for Whole Foods to grow comp store sales.
Lidl is considered a cross between Wal-Mart and Trader Joes by Business Insider. Lidl's European stores sell groceries, household appliance, clothes, and furniture. Lidl is a deep discounter with a selection of fresh & healthy products. Lidl offers a broader set of products and has more brand names than Aldi.
Lidl's selection of low priced organic & healthy products is what will put more pressure on Whole Foods Market. The company currently offers organic products from multiple brands in Europe. The brands and sources are likely to be different in the United States than what is offered in Europe. I say this because Lidl is a discount chain, so the company is likely to use local suppliers to keep costs down. Evidence shows that Lidl's website is set-up to obtain suppliers located in the U.S.
Whole Foods is doing something to remain competitive through its newer 365 store concept. The 365 stores sell healthy food at lower prices than the standard Whole Foods Market stores. I think Whole Foods will be forced to close more underperforming standard stores while opening more 365 stores over the next few years due to the increased competition.
Whole Foods already announced that the company was closing 9 stores by the end of April. So, I think the company will continue to shed more of its standard stores over the next few years to save money. The 365 stores are smaller and less costly, so it makes sense to open more of this concept.
With competition heating up as Lidl enters the U.S. market, Whole Foods is likely to experience a continued downtrend in comp store sales and margins. Comp store sales are likely to continue to fall as consumers gravitate to the lower priced competitors. The decline in margins will happen as a result of Whole Foods being forced to lower prices in its standard stores and/or open more of the 365 stores which offer lower prices to keep up with the competition.
Conclusion
There is a possibility that Lidl won't be well received in the United States. Lidl did not yet prove itself to be successful in the U.S. since no stores have opened yet. However, I think the success of Aldi and Trader Joes is a good indication that Lidl will perform well in the states. There are always plenty of consumers looking for quality food at a bargain. This is evident in the success of stores like Aldi and Trader Joe's.
Whole Foods is already under intense competitive pressure from most grocery store chains offering competitively priced organic food. So, the introduction of Lidl as another discount grocer offering organic food is likely to add to the challenges that Whole Food faces to turn around its decline in comp store sales and gross margin.
This increased competitive pressure from Lidl and others is likely to put further downward pressure on Whole Foods Market's stock price. At the very least, the stock will underperform due to negative comp store sales growth and negative earnings growth for 2017 (consensus).
Overall, I rate the stock as a sell. Whole Foods with a forward PE of 21.8, is trading higher than competitor, Sprouts Farmer's Market, who is trading with a forward PE of 18. Sprouts Farmer's Market is expected to grow revenue at a double digit pace for 2017 and again in 2018 (consensus), while Whole Foods is expected to grow revenue at 1.4% in 2017 and just under 4% in 2018. This shows that Whole Foods is overvalued in relation to its growth.