What Employees Say
I AM GIVEN THE RESOURCES AND EQUIPMENT TO DO MY JOB.
I FEEL GOOD ABOUT THE WAYS WE CONTRIBUTE TO THE COMMUNITY.
OUR FACILITIES CONTRIBUTE TO A GOOD WORKING ENVIRONMENT.
I'M PROUD TO TELL OTHERS I WORK HERE.
MANAGEMENT IS HONEST AND ETHICAL IN ITS BUSINESS PRACTICES.
WHAT THEY DO
We asked Wegmans Food Markets, Inc. to explain what they do. Here is what they had to say.
We are a mission-driven, values-based, family company.  Much more than a supermarket, we help people live healthier, better lives through food.  Our caring, knowledgeable people provide incredible service and a warm welcoming atmosphere in our one-of-a-kind shopping experience across 90 locations.
ABOUT THIS COMPANY
| | |
| --- | --- |
| Website:www.wegmans.com | Industry:Retail |
| US Headquarters:Rochester, New York | US Sites:120 |
| Major Locations:Rochester, New York; Buffalo, New York; Syracuse, New York; Philadephia, Pennsylvania; Baltimore, Maryland; D.C. Metro Area, District of Columbia; Boston, Massachusetts; NY Metro Area, New York | US Employees:46,800 |
| US Revenues:$8,005.8 million | Worldwide Revenues:$8,005.8 million |
| Corporate Structure:Private | Founded:1916 |
Wegmans Food Markets, Inc. has been awarded: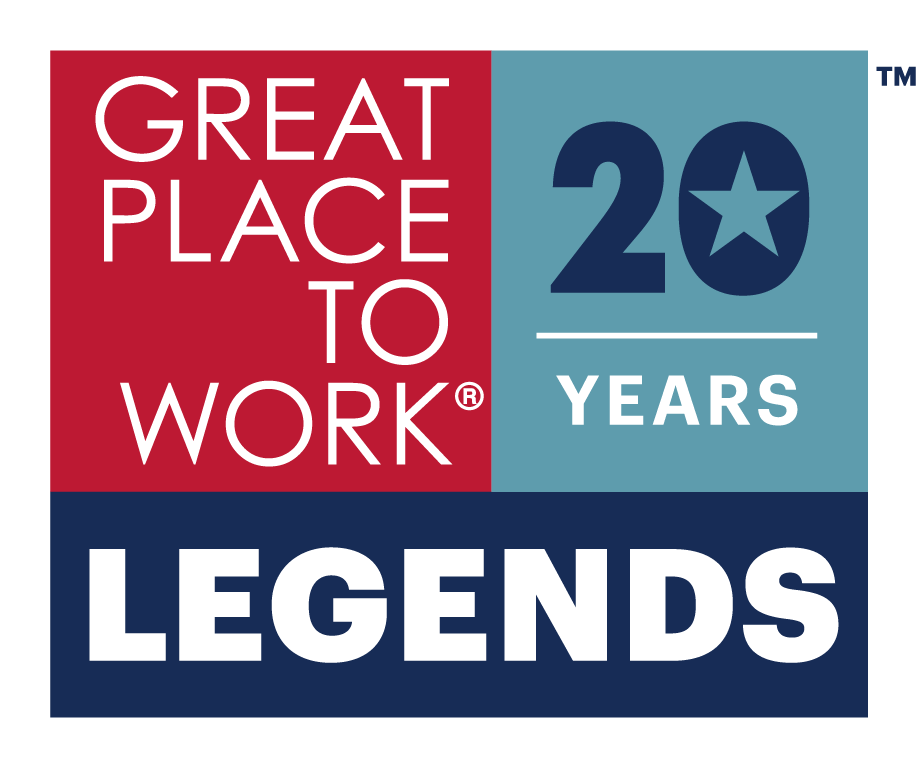 Awarded to companies on the Fortune 100 Best Companies List every year for 20 years
Perks and Programs
We asked Wegmans Food Markets, Inc. to share a few programs they feel really capture what's unique about their workplace. Here is what they had to say.
Flexible Scheduling: Flex scheduling and work/life balance are top reasons people come to work and stay at Wegmans. Store locations have more than 500 employees across 30 departments, allowing our 24×7 operation tremendous flexibility to accommodate changes for student schedules, caring for a sick family member, and personal activities or obligations. We are a family company who wants you to have a healthy work/life balance so you can be your best.
Listening/Empowerment: At Wegmans, employees are empowered to make decisions that improve their work and benefit our company. We invest in various programs to put our employees' ideas into action. Open Door Days, Huddles, Focus Groups, a two-way Q&A blog with our SVP of Operations are all examples of our commitment to listen to our people closest to the work and closest to the customer to help us continuously improve. We believe this makes our work more fun and more meaningful, whether a cashier, chef, accountant or baker.
Employee Development: We invest more than $50 million each year to provide training and development opportunities for our people. Learning at Wegmans includes: department universities, online training, workshops, Dale Carnegie, on-the-job experiences, food rallies, cooking technique certifications, merchandising shows, traveling to supplier partners, and talent development programs like internships, management trainee and leadership development programs. Last year, 25% of our employees received a promotional or lateral learning assignment, and includes 12,198 positions filled by current employees in our hiring outlook (below).
Internal Promotions: In addition to adding new employees to our team every day, we promote from within whenever possible through an internal Job Posting program. New opportunities across store operations, corporate, manufacturing and distribution are posted twice a week (about 7,000 positions annually); allowing our growing team of 47,000 employees the opportunity to submit interest to grow laterally or vertically into new roles.
Wellness: Our company's mission is to help people live healthier, better lives through food. Employee wellness programs abound including free health screenings, tobacco cessation, subsidized Weight Watchers, and a variety of food/nutritional programs! Collaborative, "get-moving" events, like yoga, Couch-to-5k, Kickball and Zumba stir up some fun. Regional Nutritionists and in-store Executive Chefs offer expert advice for making healthy meals easy, and Pharmacists provide free blood pressure and cardiovascular wellness programs to help employees stay on track with their health goals.
EAP and Financial Services: Our Employee Assistance Program provides important services for our people (and their family members) for when life gets complicated. Our enhanced provider network offers 24×7 support, 6 free counseling sessions, Work/Life referral services for parenting, child care, elder care, etc. and wide-ranging financial services and legal assistance including: unlimited telephonic financial coaching, an annual certified financial planning consultation and discounted legal services.
Scholarship Program: Parents and teens alike recognize Wegmans as a smart choice, in part, for our generous Scholarship Program. And working adults who had hoped to return to school, say Wegmans provides the flexibility and financial assistance to do so. Since 1984, Wegmans has given $105 million to over 33,000 employees with no obligation of continued employment. Part-time employees are eligible for an annual scholarship award of $1,500 per year, up to four years. Full-time employees and part-time employees in Wegmans internships or culinary or hospitality programs receive augmented awards.
CARE Program: Caring Appreciating and Recognizing Each other, is our way to thank, recognize, and celebrate our people. Our program acknowledges milestones that many families celebrate such as: work anniversaries, developmental goals and acts of service for helping others. One of our favorites is our 'Who We Are' award where employees can recognize a co-worker living our values – rewarded with a $5.00 coupon for Prepared Foods; over 50,000 were given last year.
Discounts and Digital Coupons: Wegmans employees have access to hundreds of community discounts on movies, amusement parks, car washes, cell phones, gym memberships, museums and more, saving our people thousands of dollars each year! Employees also are eligible for in-store beverage discounts and various digital coupons for unique, employee-only offers – like a free cake during the month of their birthday!
Culinary & Hospitality: Our fastest growing segment is Culinary, Hospitality and Prepared Foods. Our in-store and free-standing restaurants are fun, fast-paced and exciting places to eat; they also offer unique career development opportunities (including externships and culinary management trainees). We learn from and collaborate with world-renowned Culinarians and our in-house Executive Chefs lead diverse teams to bring all food cultures to the table. If you love people and you love food, we have everything under one roof to satisfy you.
COMPENSATION BY THE NUMBERS
$36,542

Average salary and additional cash compensation for Store FT Customer Service

$65,272

Average salary and additional cash compensation for Store Department Manager

50%

401(k) match of employee's contribution, up to 6% of an employee's salary

85%

Company-paid health coverage for employees (Full-time employees who are enrolled in single coverage in our most prevalent plan (PPO).)

100%

Company-paid health coverage for dependents (Full time employees)

85%

Company-paid health coverage for part-timers

30 hours

Weekly hours required for part-timers to receive health insurance

$6,000

College Tuition Reimbursement
COMPENSATION PROGRAMS
PERKS TO MAKE LIFE EASIER
Discount ticket sales
Weight watchers meetings
WORK-LIFE BALANCE BY THE NUMBERS
17 days

Paid time off after one year of full-time employment

6 days

Paid time off after one year of part-time employment
WORK-LIFE BALANCE PROGRAMS
Flexible schedule
Compressed work weeks

Job sharing
Phased retirement planning
FAMILY CARE BY THE NUMBERS
60 days

Job-protected maternity leave

30 days

Fully-paid maternity leave (does not include personal vacation or paid time off)

41 days

Average length of maternity leave new mothers take

60 days

Job-protected paternity leave

$5,000

Adoption benefit

60 days

Job-protected parental leave for adoptive parents
*Employees are not required to use all their personal paid time off before taking parental leave.
FAMILY CARE PROGRAMS
HEALTH INSURANCE COVERS
Medical care
Prescription drug subsidy
Alternative treatments (such as acupuncture, homeopathy, or chiropractic)

Dental care
Mental health care
ONSITE HEALTH BENEFITS
Cholesterol tests
Flu shots

Blood pressure screening
Complete biometric screening
COMMUNITY INVOLVEMENT & PHILANTHROPY
$6,610,218

Philanthropic donations in last year
DIVERSITY
Senior Vice President of Human Resources is accountable to formal diversity goals for employee recruitment and retention
Formal programs support professional development for: Under-represented racial/ethnic minority groups
Married employees in same-sex or heterosexual relationships receive the same benefits
Non-birth parents in same-sex relationships can take parental leave
EXECUTIVE DIVERSITY
Women Executives25% Women75% Men
| Women | Percentage |
| --- | --- |
| 75% Men | 75 |
| 25% Women | 25 |
Minority Executives96% Non-Minority
| Minority | Percentage |
| --- | --- |
| 96% Non-Minority | 96 |
| 4% Minority | 4 |
DEMOGRAPHICS
GenerationBorn between 1928 and 1945Born between 1946 and 1964Born between 1965 and 1980Born in 1981 or later
| Generation | Percentage |
| --- | --- |
| Born between 1928 and 1945 | 1.94 |
| Born between 1946 and 1964 | 22.11 |
| Born between 1965 and 1980 | 18.44 |
| Born in 1981 or later | 57.51 |
Workplace Diversity22% Minorities78% Non-Minorities
| Workplace Diversity | Percentage |
| --- | --- |
| 22% Minorities | 22 |
| 78% Non-Minorities | 78 |
Full Part Time38% Full Time62% Part Time
| Full Part Time | Percentage |
| --- | --- |
| 38% Full Time | 38 |
| 62% Part Time | 62 |
Tenure (as a %)< 2 YEARS2 TO 5 YEARS6 TO 10 YEARS11 TO 15 YEARS16 TO 20 YEARSOVER 20 YEARS
| COM_GPTW_VIEW_REVIEW_CHARTS_TENURE, true | Percentage |
| --- | --- |
| < 2 YEARS | 34.78 |
| 2 TO 5 YEARS | 28.31 |
| 6 TO 10 YEARS | 15.92 |
| 11 TO 15 YEARS | 8.24 |
| 16 TO 20 YEARS | 4.86 |
| OVER 20 YEARS | 7.89 |
Gender47% Male53% Female
| Gender | Percent male, female |
| --- | --- |
| 47% Male | 47 |
| 53% Female | 53 |
| 0% Other | 0 |
How to Get Hired
We asked Wegmans Food Markets, Inc. for some inside information on how to get hired at the organization. Here is what they had to say.
What key characteristics tell you a prospective employee will be a great fit for your company?
With nearly 47,000 employees across 100 locations in 6 states, we hire for a values-match to preserve our culture. Ideal candidates are passionate about food, enjoy working with others and are service oriented. Candidates choose Wegmans because they share the same set of core values: Caring, High Standards, Making a Difference, Respect and Empowerment (called "Who We Are"). We value a diverse workforce, not only because it's the right thing to do, but because new and different ways of thinking helps set our business apart from the competition.  Our people are empowered to make decisions to improve their work and benefit our company, so we seek candidates who want to be involved, are open to change, are continuous improvement minded and enjoy sharing their ideas.
What can prospective employees do to get your attention?
Throughout our interview process, candidates stand out when they demonstrate they are positive and enthusiastic people, active learners who enjoy a fast-paced environment. They'll aspire to learn and grow and wish to provide incredible service to their co-workers and customers. Our mission is to help people live healthier, better lives through food – and if a candidate shares that passion, they will help our company grow and evolve.  The very best candidates recognize that by joining Wegmans they will become part of something larger than themselves or their individual work and embrace a collaborative working style, and are eager to help others learn and grow.
Are there any positions or types of candidates you are particularly focused on hiring in this coming year?
We will open three stores in 2017.  Each store will create about 500 new job opportunities in these communities including part-time and full-time customer service, supervisory and culinary positions.  We will also need cashiers and customer service representatives throughout all of our stores. Culinary and Hospitality is the fastest growing segment of our company and here we seek people who are passionate about food to create great tasting meals for customers in our fun, fast-paced in-store and free-standing restaurants. As our company grows, we also continue to look for specialized talent like pharmacists, network analysts and select technical positions for supporting roles to our stores.
What should interested candidates do to find out more and get started?
Our application process is online and our Wegmans.com/careers webpage offers great information about our company, our benefits, company growth and the types of jobs at Wegmans.  But the best way to get to know Wegmans is to visit a store and talk with our people and our customers about their experiences and what they love about Wegmans!  If you become inspired to become a part of this family-owned, values-based and mission-driven company where you can do what you love, we promise it will be a lot of fun along the way!
HIRING OUTLOOK
12,500

Job openings forecast for coming year

6%

Job Growth

17

Average applicants per opening

206,463

Applications received

23,498

Positions filled in past year

2,350

New positions created

12,198

Jobs filled by current employees

Yes

Recruits on college campuses

178

New graduates hired

5%

Voluntary turnover for full-time employees

25%

Voluntary turnover for part-time employees
* All figures refer to 12-month period prior to reporting, unless otherwise noted.