Macy's Vs. Amazon – Which Company Is More Price Competitive?
Apr. 20, 2017 3:17 AM ET
Summary
Macy's Inc operates as a retailer of high-end fashion apparel, footwear and jewelry.
The company has lost more than 55% from its peak, and now trades below 15x PE.
There is a common assumption that retailers are more expensive than Amazon, however few researchers have compared prices.
Today, we conduct an extensive study to see whether Amazon is more price competitive than Macy's. This is through a random sampling method of products that Macy's sells, and cross-checking
Comparing 27 products in 8 different categories, we find that Macy's, on average, is 26% more expensive than Amazon.
This post was written by Hamish Kumar for Integer Investments.
Previously, we wrote an article discussing the recent poor operational performance of Macy's (M). Here is what we said about it:
Management has emphasized that the changing retail environment is the biggest factor to this [weak FY 2016 results]. Consumers are now more likely to compare item prices online, and buy from the cheapest vendor. Consumers are also more likely to purchase through e-commerce platforms. Macy's has re-aligned its company strategy to address this changing dynamic. This is through shifting capital and resources to invest more on their e-commerce division. The company has indicated that this division has grown by double-digit percentiles over the last year. However this is from a small base, meaning absolute growth would be small (e-commerce sales only account for 10% of total sales made by the business). Despite this, it is encouraging signs for the business going forward.

Overall however, we are skeptical about the company's strategy. This is due to the key reason that customers now have better information to prices, and Macy's are unable to supply the market at the cheapest cost. Customers are more likely to purchase through other licensed sellers like Amazon, who have lower overhead costs that are passed on to consumers. On most occasions, this online giant has the ability to supply the same products that Macy's supplies, but at a lower price. There is also very little loyalty to the Macy's and Bloomingdale's brands, but rather the brands that they stock. This therefore leaves Macy's with no competitive advantage, and limited exclusivity on products that they do receive. The company also only ships certain brands globally, with high and unfavorable shipping costs for the brands that they do provide internationally. This deters many potential buyers, with shoppers opting to purchase from other vendors instead.
This article further researches price differentials and shipping expenses between Macy's and Amazon (NASDAQ:AMZN). We have done this by randomly selecting various items across different sales categories within Macy's and comparing them to Amazon prices. This sampling technique is commonly used in academic research. By randomly selecting items, we are able to infer the overall pricing discrepancies of the whole population. Below we show the home page of Macy's with the various categories listed on top.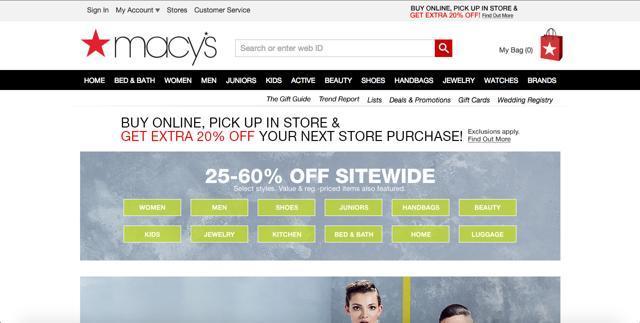 We start by comparing women clothing. In this category, Macy's is competitive only on one product, while is considerably more expensive on four other products. Overpricing ranges from 26 to 51%.
Category
Item
Macy's Price
Amazon Price
Difference
Womenswear
Kensie Eyelet Dots Cold Shoulder Dress
$67.50 ( SALE)

$89.00 (Original)

$89.00
-24%
JAG Petite Nora Pull-On Skinny Jeans
$63.00

$84.00 (Original)

$50.01

$74.00 (Original)

26%
True Religion Joe Cuttoff Denim Shorts
$104.25 $139.00 (Original)
$69.98

$139.00 (Original)

49%
Calvin Klein Sheer Tunic Top
$89.50
$66.99

$89.50 (Original)

34%
Calvin Klein Icon Full Slip F3661
$48.00
$31.74

$48.00 (Original)

51%
Below a screen shot of a few items in this category (please note that this price is in.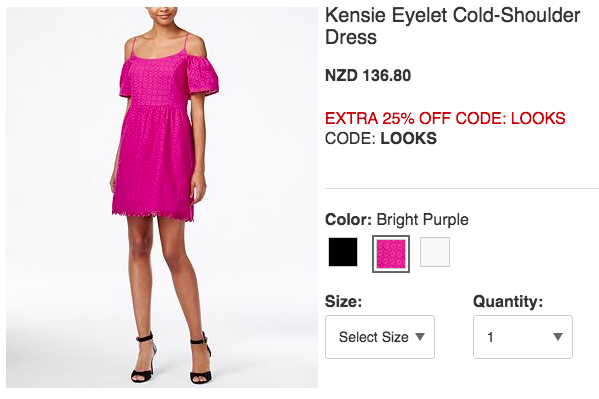 In this example, a Kensie dress, Amazon can sell at $89, while Macy's, despite a 25% discount, sells at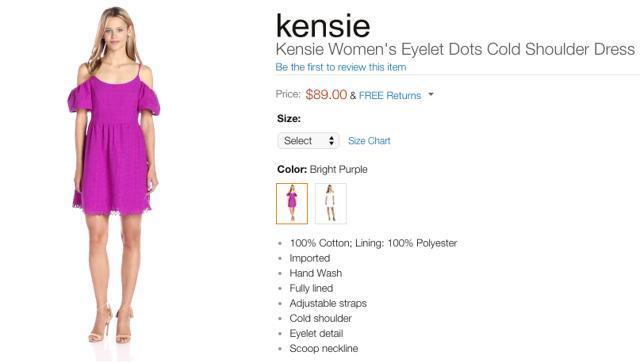 Then we look a menswear. Here, surprisingly, Macy's is very competitive. For example, the below Lacoste T-shirt is discounted to $37, and is therefore 17% cheaper compared to Amazon.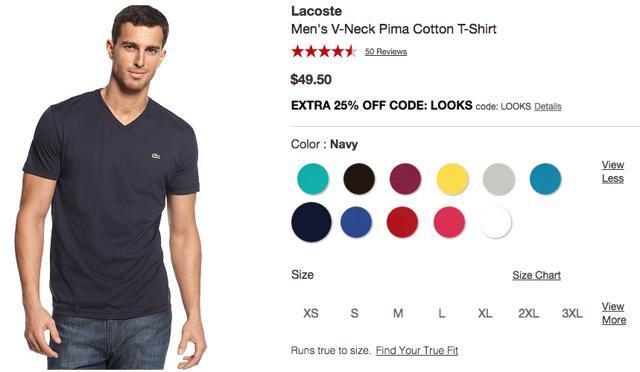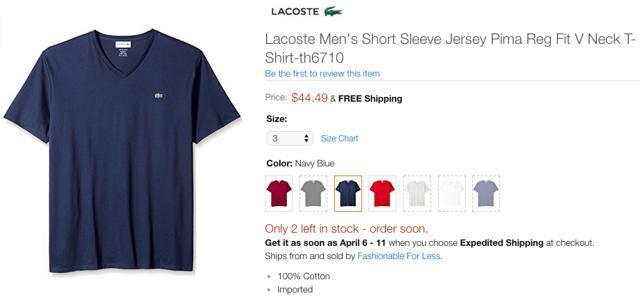 Below we report a few items. Macy's offers either the same price of Amazon, or lower prices.
Category
Item
Macy's Price
Amazon Price
Difference
Menswear
Nike Mens Club Explosive Shorts
$29.99

$35.00 (Original)

$49.00
-39%
Lacoste V-Neck Pima Cotton T-Shirt
$37.13

$49.50 (Original)

$44.49
-17%
The North Face Men's Logo Half Dome T-Shirt
$25.00
$24.99
0%
Polo Ralph Lauren Trunks – 3 Pack
$39.50
$39.50
0%
Moving onto handbags, we compare Michael Kors bags. We can see that for this item Amazon is much cheaper. The price on the Amazon platform is $212 (after a 29% discount), while on Macy's is $298.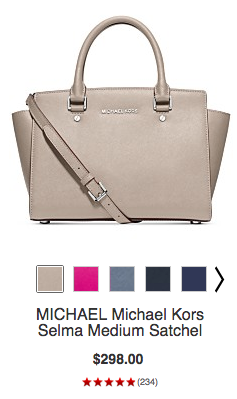 The table below that Macys is generally more expensive in the handbags category.
Category
Item
Macy's Price
Amazon Price
Difference
Handbags
COACH Edie Shoulder Bag 31 In Polished Pebble Leather
$350.00
$306.52
14%
MICHAEL Michael Kors Selma Medium Satchel
$298.00
$212.80

$298.00 (Original)

40%
Kate Spade New York Women's Camel March Stacy Continental Wallet
$100.00
$100.00
0%
Below we compare the activewear category. Here the two companies are even. Probably these prices are set by the manufacturers and only sales can make a difference.
Category
Item
Macy's Price
Amazon Price
Difference
Activewear
Under Armour Men's Qualifier 9″ Woven Shorts
$34.99
$34.99
0%
Puma Women's Swagger Leggings
$35.00
$27.99

$35.00 (Original)

25%
Nike Pro Classic Mid-Impact Dri-FIT Sports Bra
$22.50

$30.00 (Original)

$30.00
-25%
Below we show the pricing for a Nike sport bra.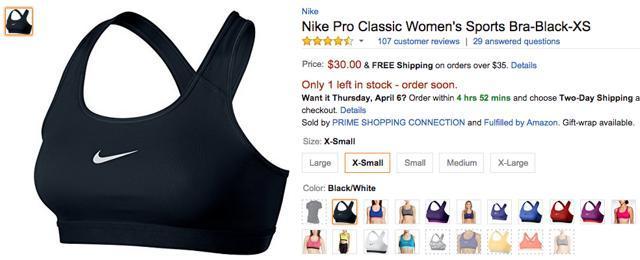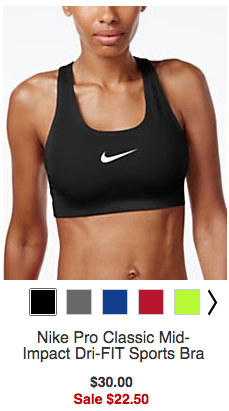 Moving onto the "beauty" category, Macy's is seriously competitive. It offers better prices ranging from 25% to 44%.
| | | | | |
| --- | --- | --- | --- | --- |
| Category | Item | Macy's Price | Amazon Price | Difference |
| Beauty | Bobbi Brown Illuminating Cheek Palette – Guava | $50.00 | $88.93 | -44% |
| | Chanel Ultrawear Foundation Compact | $60.00 | $80.09 | -25% |
| | Chanel Le Volume Mascara 10 Noir | $32.00 | $47.32 | -32% |
Below we show the Chanel Mascara were Macy's is competitive. On Macy's…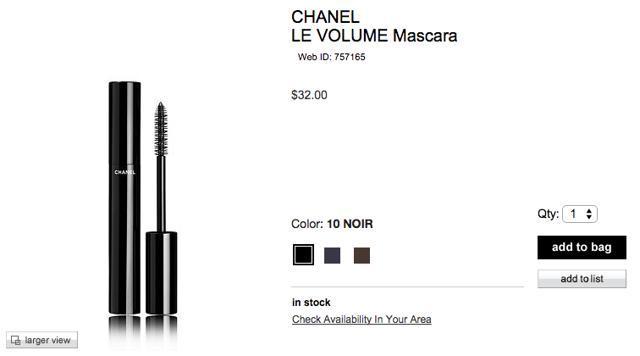 And Amazon…

Watches. Here is a bloodshed. Macy's is completely out of tune. Its overpricing ranges from 33 to 64%. However, the better pricing of Amazon seem to be coming from discounts.
Category
Item
Macy's Price
Amazon Price
Difference
Watches
Tissot Men's Swiss Automatic Heritage Visodate Brown Leather Strap Watch 39mm T0194301603101
$650.00
$407.61
59%
Tissot Men's Swiss Chronograph T-Classic Tradition Brown Leather Strap Watch 42mm T0636173603700
$495.00
$301.61

$495.00 (Original)

64%
TAG Heuer Women's Swiss Automatic Carrera Lady Stainless Steel Bracelet Watch 28mm WAR2411.BA0776
$2150.00
$1620.00

$2150.00 (Original)

33%
As an example, below we report the Tissot that costs $650 on Macy's…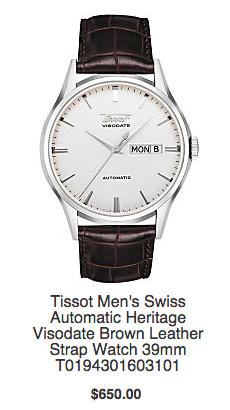 But only $407 on Amazon.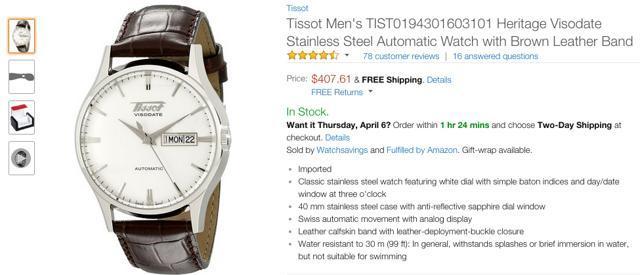 In the footwear category, prices are generally similar.
Category
Item
Macy's Price
Amazon Price
Difference
Footwear
Calvin Klein Women's Nylee Pointed-Toe Shooties
$149.00
$149.00
0%
Nike Men's Air Presto Running Sneakers
$120.00
$120.00
0%
Steve Madden Men's Finnch Oxford
$79.99

$90.00 (Original)

$63.00

$90.00 (Original)

27%
For example, Calvin Klein shoes cost $149 on both websites. Here on Macy's…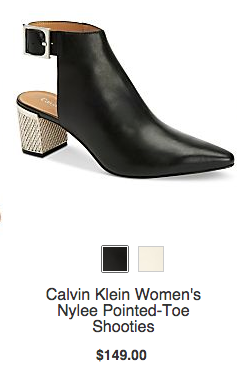 And on Amazon…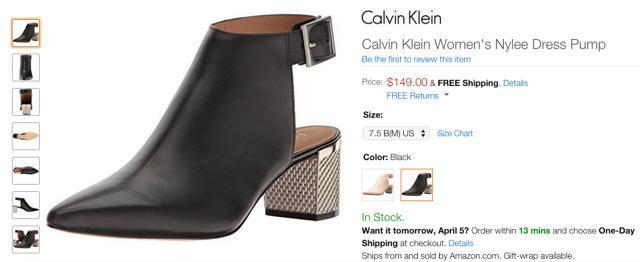 Finally, we investigate pricing in the Bed & Bath category. Here Macy's is approximately 15% more expensive than Amazon.
Category
Item
Macy's Price
Amazon Price
Difference
Bed & Bath
Tommy Bahama Home Serenity Palms Full/Queen Quilt
$148.75

$175.00 (Original)

$123.49
20%
Baltic Linens 6-Pc Pure Elegance Bath Towel Set, 100% Turkish Cotton, Pure Elegance
$42.99

$90.00 (Original)

$37.97
13%
Travelpro Platinum Magna 2 29″ Expandable Spinner Suitcase
$399.99

$800.00 (Original)

$339.99

$800.00 (Original)

18%
The table below summarizes our findings. As we can see, there is a difference in terms of original prices between Amazon and Macy's only on some products. Price discrepancies typically occur during sale periods. This makes Macy's more price competitive than what we initially thought. Macy's also has a pricing advantage in terms of beauty products, with free shipping included on purchases from this category, and menswear. However, the average product is 26% more expensive on Macy's than on Amazon and this is not sustainable.
| | |
| --- | --- |
| Category | Average Price Difference |
| Menswear | -17% |
| Womenswear | 21% |
| Handbags | 21% |
| Activewear | -1% |
| Watches | 41% |
| Beauty | -34% |
| Footwear | 5% |
| Bed & Bath | 18% |
| OVERALL | 26% |
We aren't convinced by Macy's online sales strategy. Increased competition and pricing information will force Macy's to continue putting items on special. This will lead to lower margins for the business. Customers are also focused on total price after shipping. Competitors like Amazon and ASOS can afford to charge little or no shipping costs due to less overhead costs (shipping is free for most items for Amazon prime subscribers). Macy's however charges $10.99 for shipping if the customer spends $99 or less. These costs substantially increase if customers require overseas shipment. We see this as a significant disadvantage for Macy's, as reducing these costs to consumers will directly affect the bottom line for the business. On the other hand, if they don't reduce shipping costs, customers will opt to purchase from competitors like ASOS and Amazon instead.
Overall, Integer Investments doesn't view investing in a better online platform as an advantage for Macy's. In this dynamic retail environment, consumers are ultimately focused on prices and speed of delivery, not on the quality of a company's website. Macy's DOES NOT have the most price competitive products after considering shipping expenses. They also don't have as flexible and quick shipping options, except for instances where the customer pays extra. We therefore reinforce our negative view on the future performance of Macy's operations.